Today is Randy Pausch's birthday. October 23, 1960 – July 25, 2008. He shared enough of himself that we can celebrate a bit today for him.
You've probably watched it or read it, but like a Valentine, it's nice to open at least once a year.  The Last Lecture was presented in 2007.  He touched and inspired millions, including me.  Crazy good, and crazy sad. I welled up while Googling this link to the lecture.
www.youtube.com/watch?v=ji5_MqicxSo    followed by a best selling book published in 2008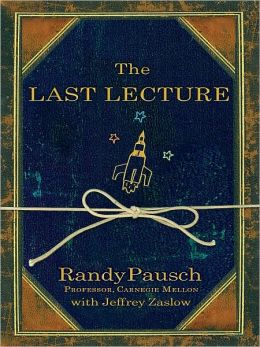 I am a proponent of limited screen time, and I want my munchkins to watch this. I'd like us all to watch. It's an hour well spent, and an impact that will hopefully last much longer.
One of the most succinct moments was posing the question "Are you a Tigger or an Eeyore?"
Now there's something to ponder over a smackerel of honey . . .
I  have a tendency to tip towards 'the glass half empty' Eeyore gang, but look for inspiration to be on 'the glass half full with more to pour' Tigger team.  I have a lovely number of Tigger role models to bounce off of (pun intended). I cannot recall The Last Lecture without the fortitude and resolve to do better, try harder and be oh-so thankful.  Maybe I am a bit Christopher Robin's gentle voice of reason mixed with a touch of Roo's joy.
"You can always change your plan, but only if you have one."

"Throughout my academic career, I'd given some pretty good talks. But being considered the best speaker in the computer science department is like being known as the tallest of the Seven Dwarfs."

"Find the best in everybody. Just keep waiting no matter how long it takes. No one is all evil. Everybody has a good side, just keep waiting, it will come out."

"Walls aren't put in our life to stop us, they are there to test how much we really want something."

"Follow your passions, believe in karma, and you won't have to chase your dreams, they will come to you."
― Randy Pausch, The Last Lecture
Thank you so much for your perpetual gift.
Happy Birthday Randy.
FYI:  The real toys that inspired Tigger, Eeyore and Pooh's adventures live today at the Stephen A. Schwarzman Building of The New York Public Library.  Yes, in NYC.  The toy Winnie the Pooh was given to the boy Christopher Robin Milne for his first birthday on August 21, 1921.

Purchased at Harrods.