You have 3,991 college options.'  The College Board, 2013
3991 college options. Kids also have an equivalent proportion of pressure to go with it. Let's lighten it up a bit.
Admission letters and emails have been sent and received. The deadline for most students to declare where they will attend is on the horizon. May 1st is National College Decision Day. Almost at the end of the long college search tunnel.
In the old days (aka when I was in high school) college applications seemed more like an over-pass than a tunnel. A 5K vs a marathon.
A four year degree was my goal. Blithely, I assumed that every state had a 'U of' and 'State University' so that meant 100 possibilities to consider. On my radar were about four in-state schools. (As of 2013, there are over 65 schools listed within the College Board search engine in the state.)  I knew schools with a national reputation (admittedly more from sports or myth than rigor or service) UCLA, Notre Dame, Navy, and Duke.  I figured that attending college in Hawaii would be more desirable than perhaps Missouri.  OK, being in Hawaii.  Applied to two, chose favorite football team and went. Graduated in four years, and (fine) a quarter.
I recall a classmate prepping to request a recommendation letter, and one working to fulfill Westpoint requirements. Some kids planned to attend community college to learn a trade or get grades up, some left to ski, some set off to bloom at liberal arts colleges, some went to state schools, some went into the service and some to work.  But for the most part the vibe was fairly low key. Graduate, and move out to do something somewhere.
In the new days, as a parent, things have changed. At the beginning of 'the Search', I was completely committed to researching  the realm of college and university options for our little pumpkin. Admittedly, I let the experience become a tad exhausting. Complete 8th grade with a strong 4 year academic plan. Read, explore, participate, prepare.  Lather, rinse, repeat.
The ever-so-good news is that there are lots of schools that will be a fine fit for all kinds of little pumpkins.  Gobs really, soooo when coming down to application submission time, fees of $50-90 per application, and the crafting of additional supplemental essays, how to determine when to say when? Or after acceptances are received, how to say where? (Yes a very fortunate place to be.)
Yippee. After almost 4 years invested in the next four years, college acceptance letters/emails arrived. The maternal portion of our college party shifted from 'Tiger Cub' Mom to 'Puppies are Nice' Mom.
How to fine tune the list/decide?  The revised Maternal Method:
What are the school colors? And would your child look good in them? As supportive parents, for a few functions a year, plus sporting events, would we look good in them?
Orange is just not our color, so toodles to Auburn, Boise State, and Syracuse. Goodbye Miami, your orange and green would make us appear to have more than a touch of  jaundice. Tennessee has the best of the orange hues, perky with white, but it is still, well, orange.  Depending on the Nike gear of the day, the Oregon green could make us look perky or beyond fatigued.  (Fatigued from studying of course. . .)
Campus resources–is there a Starbucks? Oh, they all have them; never mind.
What is the mascot? The school may be a delight, but paying tuition to have my child yell "Go Gamecocks"? Sorry U of  South Carolina.
The college search may drive you go nuts, but could you cheer for them? Truly? Sorry Ohio State Buckeye. Wichita State's mascot is 'WuShock', a buff bundle of wheat. We do love a Cinderella story, especially NCAA ones, but going to stay gluten free for now.  Stanford cardinal red and white is very doable palette wise, but why have cheerleaders if there is no official mascot to cheer?  Go placeholder tree?
Santa Cruz Banana Slugs, Evergreen State College Geoducks (if you do not know what a geoduck is, use Google. It's too, well, gooey)  What is a Billiken St. Louis U?  The common denominator in mascots I suggested was 'mammals'.
Huskies of all sorts abound: Washington, Connecticut, Northeastern and Northern Illinois. Northwestern has a pleasing combination of Willie the Wildcat and a purple and white color scheme.  Bulldogs make collegiate sense: Georgetown, Gonzaga, Yale. Could make an exception for Princeton, balancing crayon orange and black with a Tiger mascot.
And yes, the maternal method DOES consider finance$, courses of study, size, transportation options and student satisfaction.  Just not here.
And when it is time for our last pumpkin to leave the nest, the college search will have continued to change. (And hoping we have some change left to pay for #4 . . .)
And I must admit this is kinda cute Santa Cruz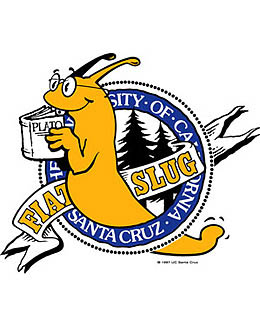 PS.  I was looking to see if any other schools had tree or nut mascots, and found Pop Chart Lab. Love it.
popchartlab.com/products/the-chart-of-collegiate-sports-teams
PPS. #1 waited until 10:30 pm April 30 to make her decision between final two choices.