Now, I'll let you in on a little maternal secret. Sometimes one of the munchkins may need a little pick me up or mood buster. My tip is to rotate a book into the upstairs 'library'.  (Also known as the kids bathroom.)   A book with the task of eliciting a smile. Subtle parenting, lightly sly but must say pretty darn effective. A twinkle in their eyes returns after a few pages of Foxtrot, Zits or Baby Blues, or a Chicken Soup title for Kids, Teens, Pet Lovers, and/or People with Crazy Mothers. Maybe a blast from the past like vintage Readers Digest magazine is the ticket. (No, I do not leave Mommy and Daddy's yearbooks, even though they are oh-so-good for a laugh. . .)
The Book of Awesome is awesome, as are the books in the Worst Case Scenario series. Another option to lighten any day is the latest edition in the National Geographic Weird But True series.  I know it's working when I hear, "Did you know that hippos lips are about two feet wide?"
But there is one series that makes the trip from 'the library' back to the kids rooms, and is read and re-read cover to cover.
I caught a glimpse in a magazine this spring.
  Whenever I fish with these books, they're hooked. Here is our collection of Calvin and Hobbes.
Calvin and Hobbes ran from November 18, 1985, to December 31, 1995
We are but six of the many, many Calvin and Hobbes fans, as this 2013 documentary highlights.  As popular as the strip was, and is, there are no Calvin and Hobbes toys or t-shirts, pens or pillowcases. (Any auto decal you may have seen is not authorized. Whew.)  To say Mr. Bill Watterson is reluctant to give interviews is an understatement
A documentary film about the impact of the best comic strip in the history of the universe: Calvin & Hobbes. www.dearmrwatterson.com.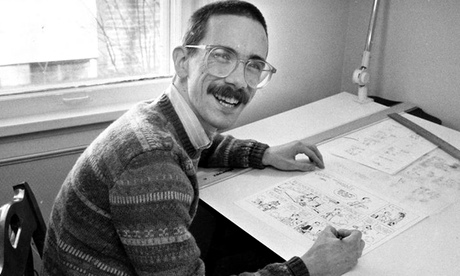 1986 AP photo of the illusive Bill Watterson
This cartoon for the documentary about comics, STRIPPED, was Mr. Watterson's first in 19 years.
Open a can of tuna for Hobbes and enjoy the May 1995 strip from above in English.
The hi-jinx of this duo live on in multiple books. Any we don't own, we've checked out from the library. E-books can deliver a chuckle to your fingertips in moments.  Also www.gocomics.com/calvinandhobbes has Susie Derkins and her pesky neighbors.
My worthy assistant helped me collect these books, and selected this from The Essential Calvin and Hobbes to share.
A little additional comic magic from June 2014, http://stephanpastis.wordpress.com/2014/06/07/ever-wished-that-calvin-and-hobbes-creator-bill-watterson-would-return-to-the-comics-page-well-he-just-did/
All Calvin and Hobbes images © Bill Watterson
The ultra Calvin and Hobbes fan may want to test their knowledge on this Sporcle quiz:
Calvin's teacher
Calvin's neighbor and snowball target
Calvin's favorite sport
The club started by Calvin and Hobbes
Calvin's space explorer alter ego
Calvin's invention that lets him become different animals and objects
Calvin's babysitter
The bully at Calvin's school
Calvin's invention that lets him make copies of himself
Calvin's private eye alter ego
Calvin's favorite cereal
Calvin's favorite bedtime story
Calvin's superhero alter ego
Calvin's uncle
Scientific Progress Goes ________
Attack of the Deranged Mutant Killer Monster __________